[gravityform id="24" title="false" description="false" ajax="true"]
In the market for a new set of wheels, but held back by a less-than-sparkling credit history? Feeling the call of the open road, but nervous about taking the financial plunge?
Don't be held back from driving the car of your dreams simply out of fear of making monthly payments or the pressure of tough interest rates. LendingArch has car loan solutions for all drivers, here in Saskatchewan and across Canada. And there's no better starting point than our car payment calculator.
Saskatchewan is a province of sweeping prairies and glorious open skies, perfect for endless road trips. It's a land with a truly unique identity of its own, defined by awe-inspiring scenery, vibrant cities, and inspirational vistas. Summers in landlocked Saskatchewan are warm and bright—in fact, Saskatchewan receives more hours of sunlight than any other Canadian province, and it has been the site of some of the hottest temperatures on record. And, of course, those prairie winters can be severe, with subzero temperatures and blustering snow, winds, and hail.
But those extremes are also what makes Saskatchewan such a great place for drivers. With more than 26,000 kilometres of highway and vast tracts of land ready for exploring, life in Saskatchewan is made all the better with a great car, truck, SUV, or other vehicle. Fortunately, LendingArch is there to serve prospective buyers all across Saskatchewan, even those who have a less-than-stellar financial history.
LendingArch's expertise is in helping drivers find great vehicles at terms that work for their individual needs, whether they have bad credit, no credit, or even have past bankruptcies. Our online application makes applying practically effortless. All we need is a few key pieces of information about you, your financial situation, and your needs in a new or used car.
In mere minutes, our sophisticated matching engine will provide you with a customized list of reputable dealers and lenders here in Saskatchewan who are ready to give you fair rates on the right vehicles. Our team of experts is there to guide you through the process and, most importantly, get you driving now.
Of course, there are a lot of factors to consider when shopping around for a new ride. If you're unsure of what you can actually afford, we've designed a solution to help make things clearer. Visit lendingarch.ca and check out our car loan calculator.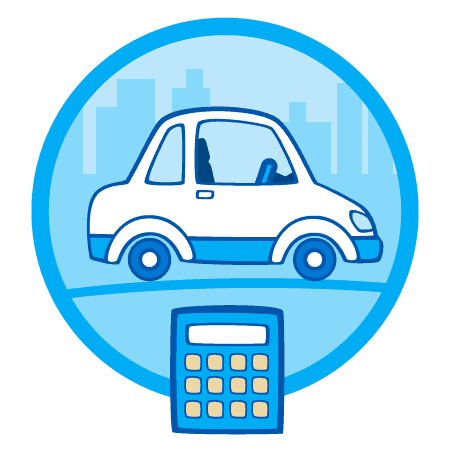 What Is a Car Loan Calculator?
Our car loan calculator is a simple, easy-to-use tool to help you determine what makes sense for you when financing your vehicle purchase. Plug in just a few key pieces of information and the auto loan calculator will show you what to expect for a monthly payment.
If you have your eyes on a particular set of wheels, just type in the sticker price, interest rate, and length of term to instantly receive a payment quote that reflects your real-world scenario here in Saskatchewan.
Sifting through complicated dealer terms and seeing through pushy sales tactics can make searching for financing options intimidating, time-consuming, and exasperating. All too often prospective buyers simply give up out of frustration, thinking they can't afford a vehicle that meets their expectations.
With the quote provided by the car loan auto finance calculator, you can cruise into the auto financing process with confidence. Knowing what it actually costs helps you understand when a deal is worth pursuing or when it's too good to be true. The car finance calculator provides real data based on real numbers, so you don't have to worry about whether you're getting taken for a ride. That means you're one step closer to sliding behind the wheel and hitting Saskatchewan's highways.
Connect with Lenders Close to Home
The Saskatchewan car finance calculator is just the beginning of what LendingArch can do for you. Once you have an estimate on your expected costs, you can directly connect to lenders in your local area via the LendingArch site. Our expansive database will guide you to the best lenders and financial institutions in Saskatoon, Regina, Prince Albert, and all across Saskatchewan. Our trusted partners are ready to work with you toward developing financing solutions that make sense for your financial expectations.
LendingArch: Solutions for All Drivers Across Saskatchewan
At LendingArch, our mission to empower all drivers—even subprime borrowers and those struggling with poor or no credit—is to find and finance the new or used vehicles they need. Even if carrying the burden of a poor credit score has resulted in rejected applications in the past, we'll find a solution for you.
Our approach to revamping the traditional car financing model doesn't end once you've received pre-approval. Armed with the invaluable information of the auto finance and car payment calculator, you can start browsing the many makes and models in our database for your dream car.
Through our always-growing network, you can locate dealers close to home offering all the latest gleaming models from top manufacturers, or you can track down a terrific used car that works for your budget. We'll provide all the information you need to choose—and to afford—a great vehicle that suits your lifestyle.
LendingArch is Saskatchewan's top choice for car loan financing, regardless of your financial history. Try out the car loan payment calculator today and know exactly where you stand. With a bit of knowledge on your side, you can hit the road with confidence as you embark on your next Saskatchewan adventure.